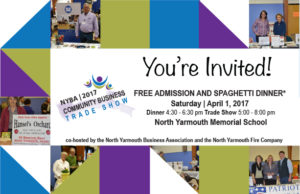 The North Yarmouth Business Association (NYBA) is pleased to host their Fourth Annual Community Business Trade Show on Saturday, April 1, 5:00 to 8:00 pm.
The trade show is the only event in the area that gives local small business owners and nonprofits the opportunity to showcase their products and services to the public. Last year we featured 30 exhibitors who offered services in the area of solar energy, software consulting, health and beauty, real estate, banking, financial management, legal services, landscaping, dog training, and insurance services just to name a few
We are pleased to announce that the event is being expanded this year to include a free spaghetti dinner from 4:30 to 6:30 hosted by the North Yarmouth Fire Company. The dinner will be served adjacent to the trade show in Room 12 of the former North Yarmouth Memorial School. Donations to benefit the Fire Company will be accepted. Learn more about the Fire Company.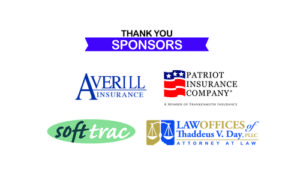 Refreshments will be available at the trade show to encourage patrons to drop by and visit. In addition, there will be drawings held throughout the evening.
Whether you want to learn more about local businesses, support your local fire company, or just enjoy an evening visiting with your friends and neighbors, this year's trade show is the place to be. Admission is free. Be sure to invite your friends and family.
If you are a small business owner who lives or works in North Yarmouth and you have not become an exhibitor or sponsor, we encourage you to register today.
Have questions? Contact a member of the planning committee listed below: